Event Spaces
Anand Kashi integrates history, harmony, and elegance, making it the perfect setting for hosting a personalised and unforgettable event. Whether it is an anniversary dinner, a birthday celebration, an engagement party, or an intimate wedding, we curate a dream team to help you orchestrate every nuance of planning seamlessly.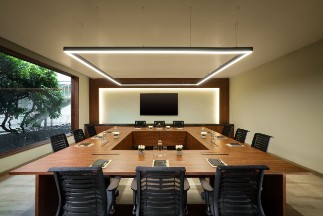 VIEW PHOTOS (1)
Business Centre
~Jaagir Manor, Dudhwa – IHCL SeleQtions
Max Capacity : 16
The 550 square foot conference room can seat 14 people in a boardroom setting. It comes equipped with a 65" Sony TV for presentations.
Dimension:
8 Mtr (Length) * 7.2 mtr (width)
|
Area:
57.6 Sq. Mtr
|
Height:
3 mtrs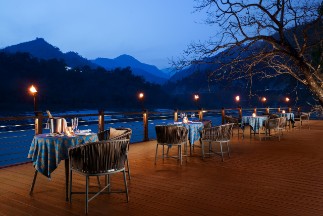 VIEW PHOTOS (2)
Ganga Deck
~Jaagir Manor, Dudhwa – IHCL SeleQtions
Max Capacity : 50-60
"The 117-foot-long deck is placed by the first bend of the Ganges that takes it to the east, thereby making it a highly auspicious location in Vedic scriptures."
Cantilevered onto the gurgling Ganges and furnished with comfortable seating, this is the ideal spot to have a sunrise breakfast or spend the afternoon reading a book as you bask in the soft rays of the Himalayan sunset.
Ganges View / Open to air / Ideal location
Dimension:
36 Mtr (Lrngth) x 8.5 mts (Width)
|
Area:
306 Sq. mts
|
Height:
NA – open to air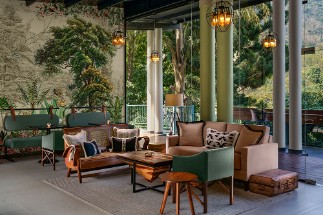 VIEW PHOTOS (2)
Rooftop Terrace Bar & Outside Area
~Jaagir Manor, Dudhwa – IHCL SeleQtions
Max Capacity : 30
"Amrit Tara, the rooftop terrace bar sits under a stunning canopy of stars and offers a mesmerising panoramic view of the river, mountains, and lush forests."
A panoramic terrace bar is set on the highest level of the property and has a 360° view of all the surrounding areas with deeply forested terrain beyond, with mountains and the changing colours of the river in the background.
Dimension:
12 mtrs (Length) * 6.7 mtrs (width)
|
Area:
80 Sq. mtrs
|
Height:
3 mtrs