Baragarh Resort & Spa, Manali- IHCL SeleQtions
Nestled in the lap of alpine nature with lush green slopes, gushing streams, and roaring waterfalls, Manali is famed for its beauty, purity, and endless vistas. According to the Hindu mythology, the town is named after Manu as he was struck by its beauty and tranquillity. Manali weaves an intricate natural tapestry of pristine valleys, verdant forests, bountiful orchards, and the majestic heights of the Greater Himalayas.
A luxurious haven in breathtaking Himachal Pradesh, Baragarh Resort & Spa, Manali- IHCL SeleQtions, is a wonderland with 360-degree views of the Himalayas. Located on a gentle rolling hill and cliff, the resort overlooks the mighty river Beas which once stopped Alexander the Great's advance. Cocooned amidst 70 acres of lush apple and pomegranate orchards, the property is dotted with rich cedar and pine trees. Be mesmerised by breathtaking views of the 12,000-feet high Shiv-Parvati peak, named after his consort, Parvati. At close proximity to the stunning Rohtang Pass and the legendary Manikaran hot water springs, welcome to a kaleidoscope of colour as the rising sun rays shimmer across the snow-capped peaks and be swayed by the rhythms of the Beas river that flanks the picturesque landscape.
Come alive to clear skies and crisp mountain air as you craft your own unforgettable storied experience. With 6 exquisite, cosy, and warm pinewood cottages designed in the style of European chalets enjoy incredible views of lofty, snow-capped mountains. Elegant and luxurious, the accommodation is bedecked with eclectic art and plush subtle earthy upholstery that brings to life the true splendour of the mountains. The chalets have gorgeous wooden flooring and roofs along with floor-to-ceiling windows that allows guests to bask in the surrounding Himalayan beauty from the comfort of the suites and rooms. With separate living rooms, spacious bathtubs, jacuzzis, and private balconies here is where unforgettable memories are waiting to be made.
Indulge in an eclectic spread of multi-cuisine delicacies that feature the best of Indian and continental cuisine and signature dishes at our all-day diner Tentu. Enjoy a glorious Himalayan morning while savouring the must-try Himachali fare at Tentu Terrace - our outdoor sitting area. A private gazebo with the awe-inspiring beauty of the mountains as the backdrop, the perfect romantic experience awaits. Sip on refreshing beverages comfortably ensconced in the plush seating at our well-stocked bar Mulkila while marvelling at the beauty of the spectacular mountains all around. 

Spend a morning meandering through our abundant apple, pear and pomegranate orchards or a relaxed afternoon gazing at unending views of the majestic Dhauladhar range as you lounge in the azure waters of our outdoor pool. Work up a sweat at our fitness centre or unwind into bliss at The Spa, with sauna, massage, and steam room options. Celebrate landmark events at Bageecha - our expansive gardens, host an intimate gathering under the stars at our terrace, or hold that private corporate retreat at our state-of-the-art conference room  Indrasan. For literary buffs, pour over books curled up in a warm chair at our library, Tibba. 
Enchantment waits at every corner in this cocoon of bliss. Bask in a soulful escape where nature is at her radiant and pristine best. Surrender to the soothing melody of nature and watch your Himalayan fairy tale unfold in magical Manali. Baragarh Resort & Spa, Manali- IHCL SeleQtions - your stunning slice of paradise bathed in the sparkle of sunlight and snow.
Hotel Highlights
33 Rooms spread across 6 Cottages.
Stunning Views of the Snow-Capped Himalayas
Lush Gardens & Fruit Orchards
Thrilling Winter Adventures & Experiences.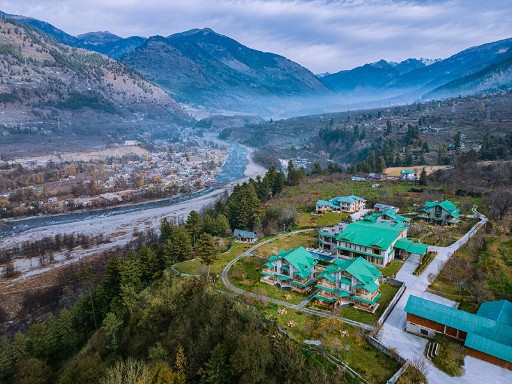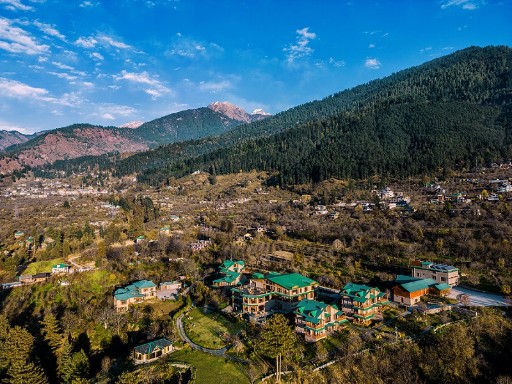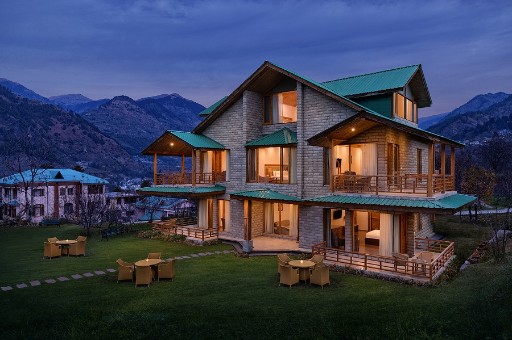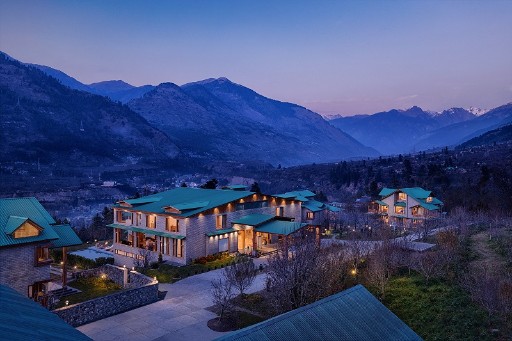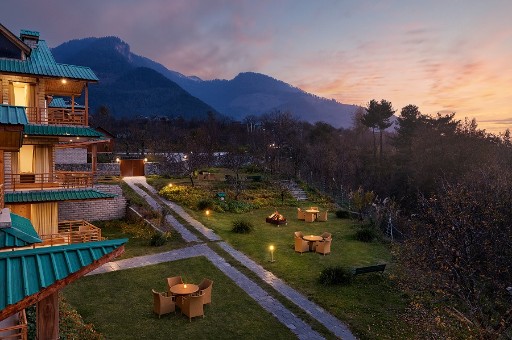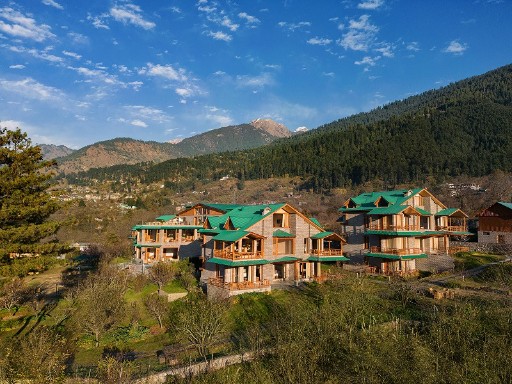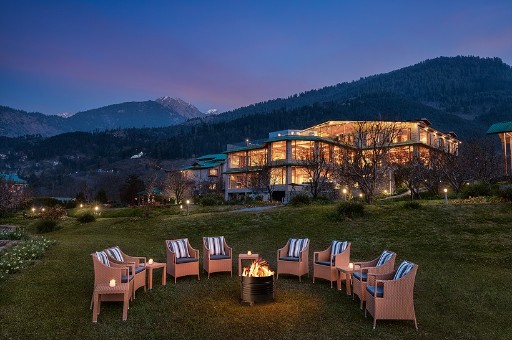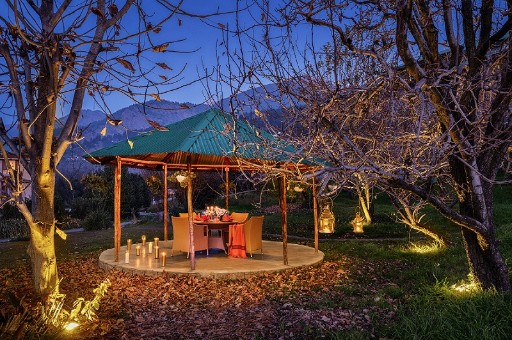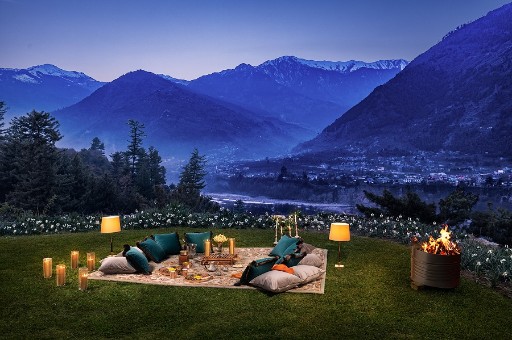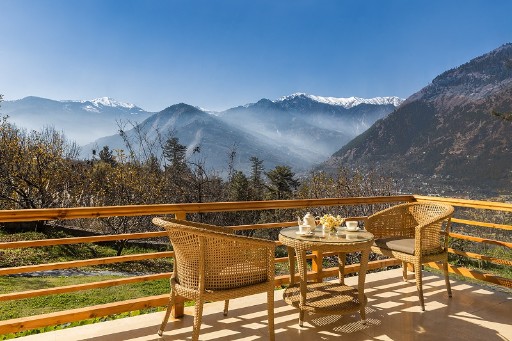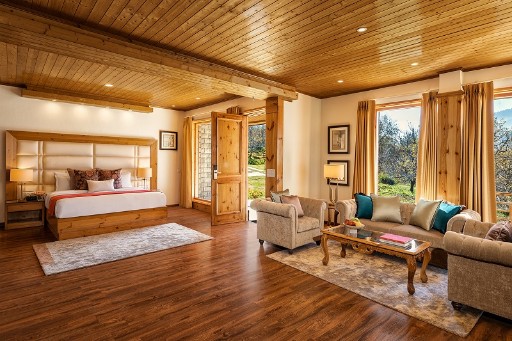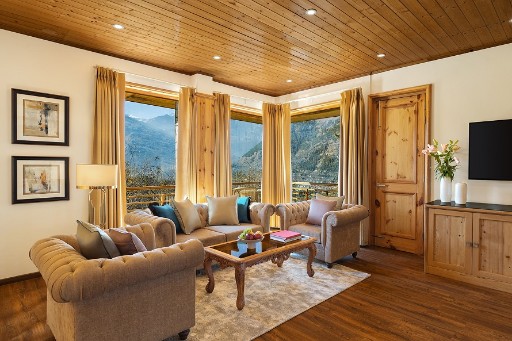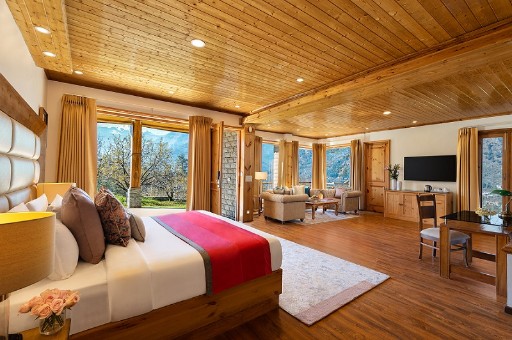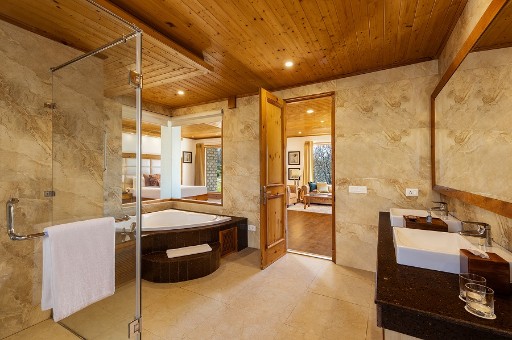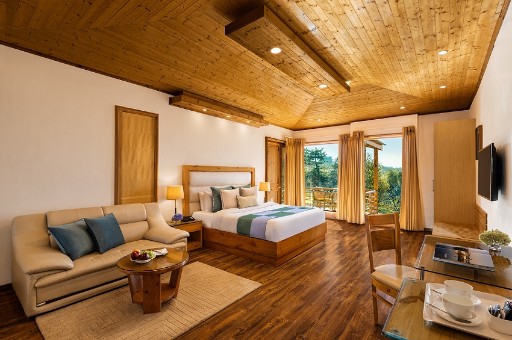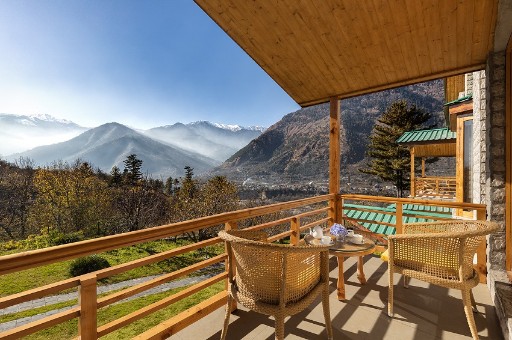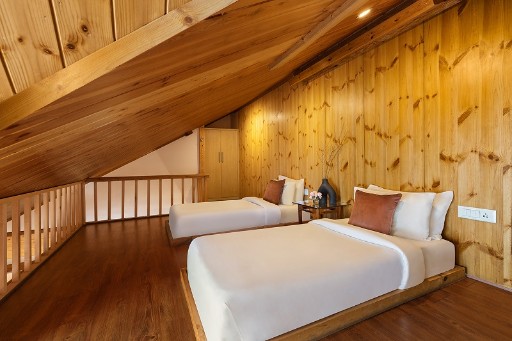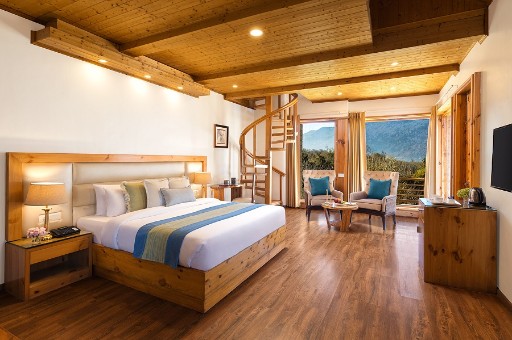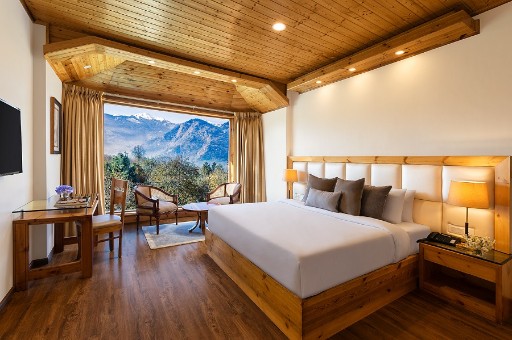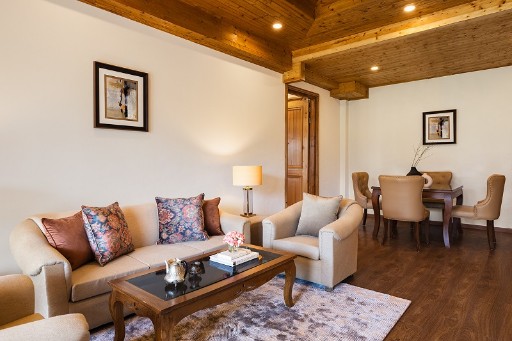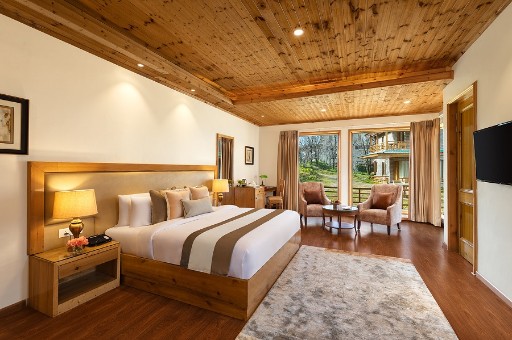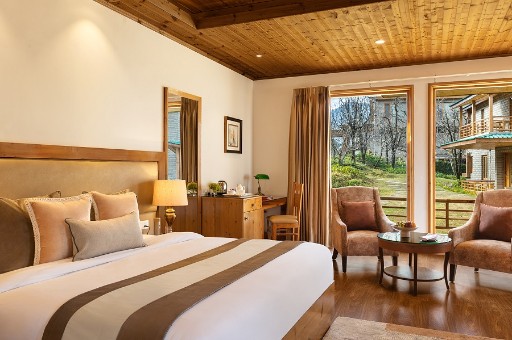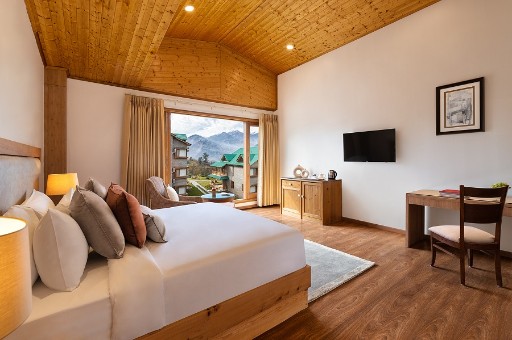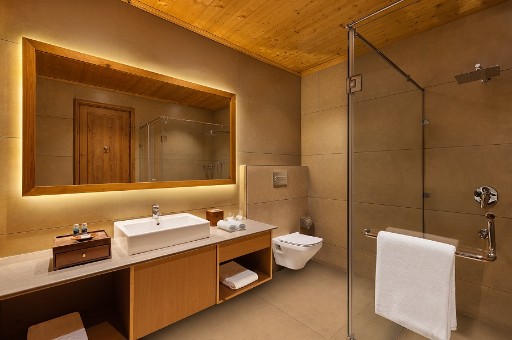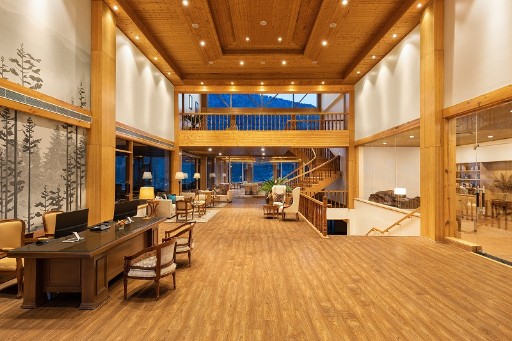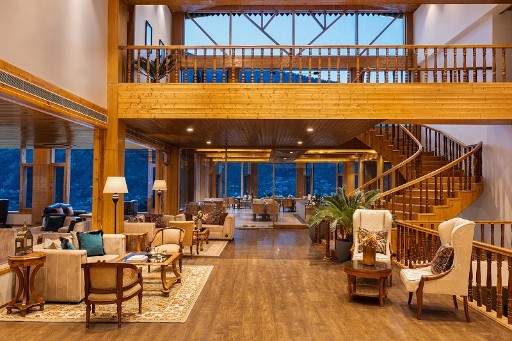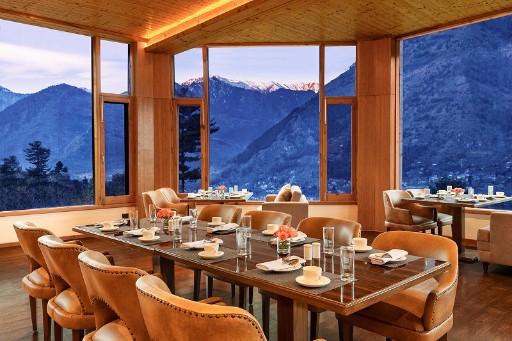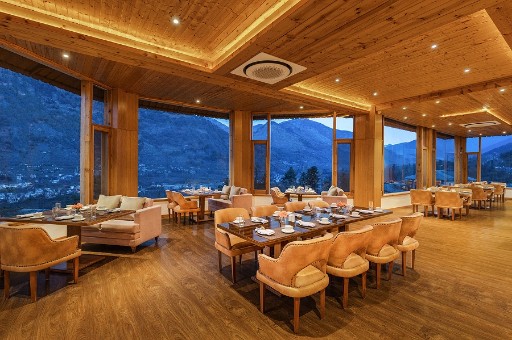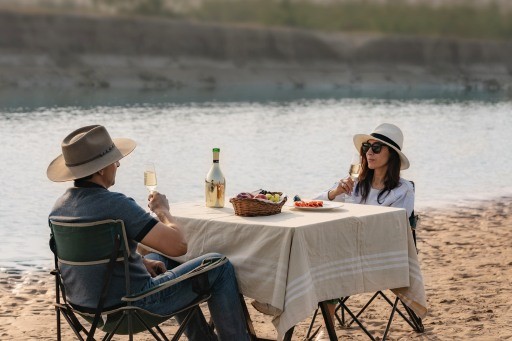 Hotel Policies
Check-in from 2:00 PM
Check-out till 12:00 Noon
Early check-in and late check-out on request.
We accept Diner's Club, Master Card, Visa, JCB International.
Pet friendly hotel.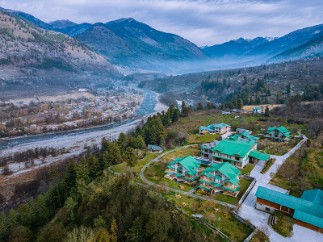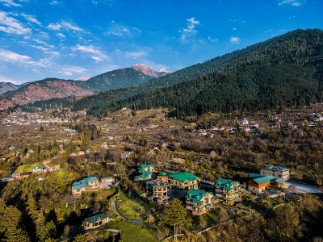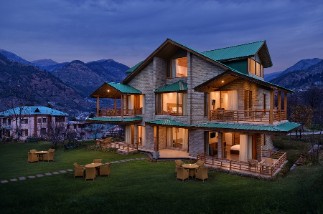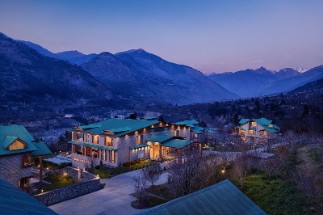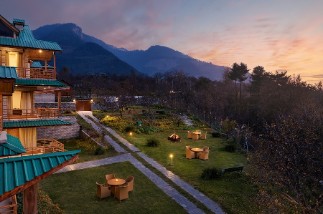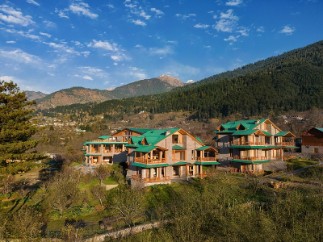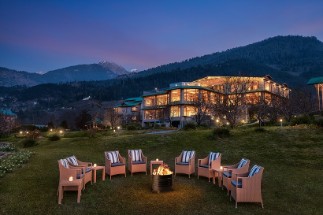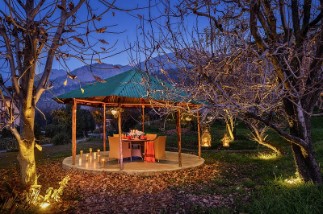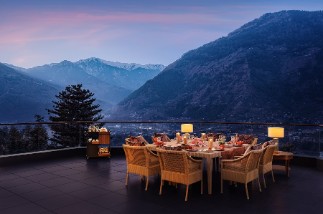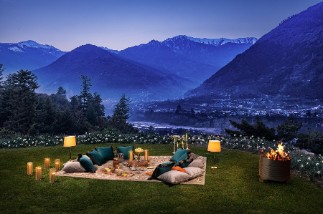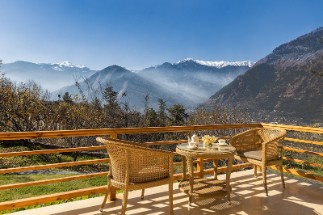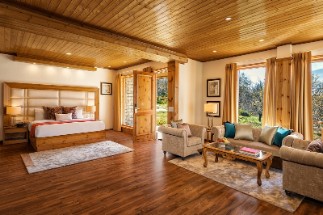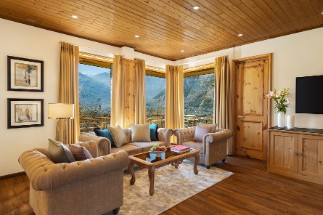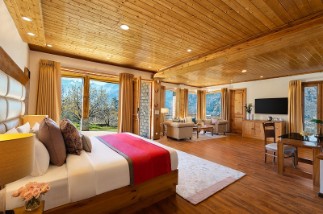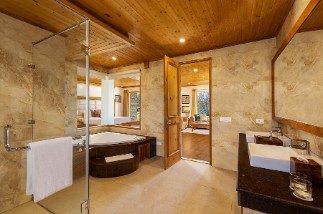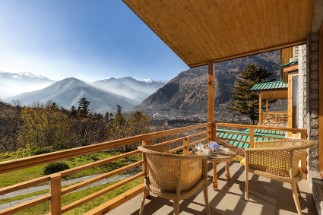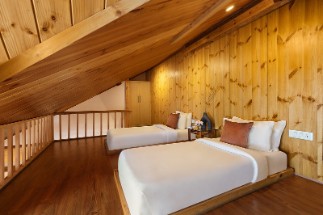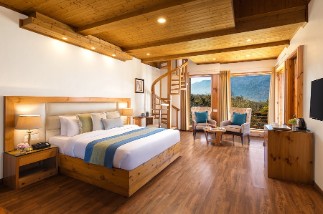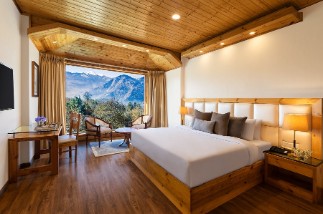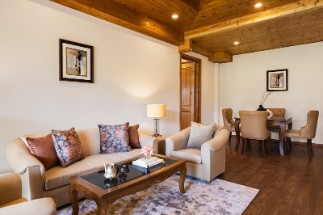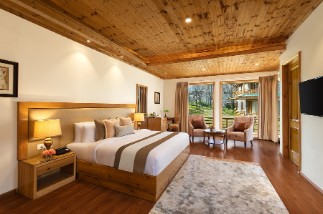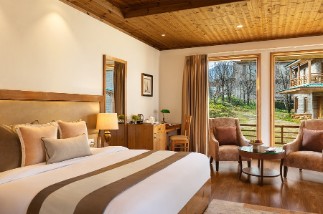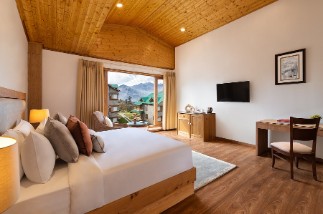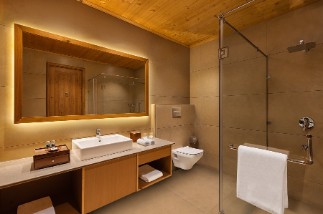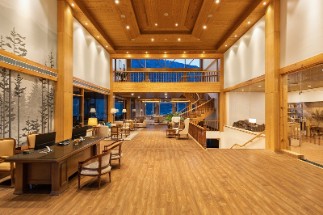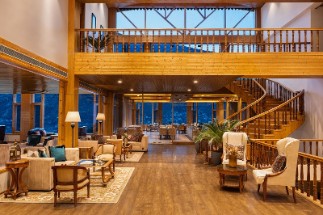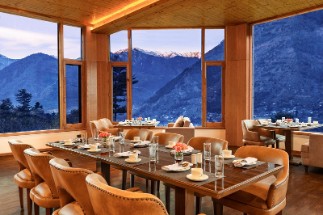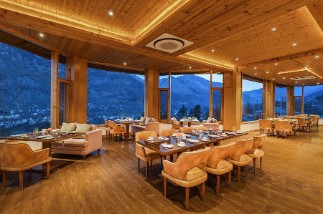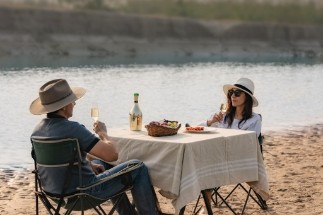 SIM cards available for purchase

Babysitting, with 24-hour prior notification

Postal and parcel services

Wi-Fi access with printing

High-speed internet access

Ergonomically designed Workstation

Video-conferencing and webcasting facilities

Restaurant and theatre booking

Local errands - shopping, medicines, telecommunication, etc.
*Some of the amenities mentioned above may be chargeable in nature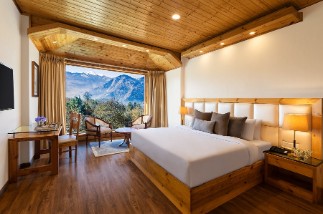 Superior Room
With uninterrupted views of the stunning snow-capped Himalayan mountains, the Superior Rooms are your ultimate oasis of tranquillity and comfort. Each room is made of beautiful pinewood and elegantly designed to offer you a luxurious stay amidst the verdant views of the snow-capped mountains of the glorious Himalayas.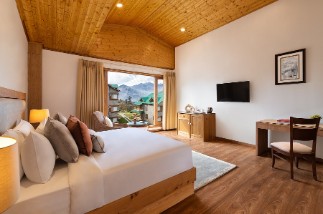 Deluxe Room
Warm and inviting, the Deluxe Rooms have spectacular views of stunning snow-capped Himalayan mountains. Furnished with gorgeous wooden walls and floors, each of the well-equipped rooms are spacious and luxurious. With large floor-to-ceiling windows and plush upholstery, our rooms are the perfect place to enjoy the exquisite and scenic splendour all around.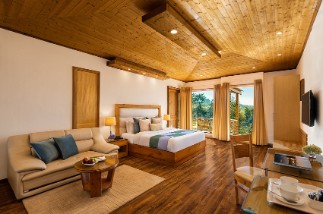 Deluxe Room with Sit-out
Spacious and elegant, the Sit-out Rooms have private Sit-outs where guests can enjoy a steaming beverage or a scrumptious breakfast with breathtaking views of the majestic mountains.
Each room is comfortably furnished, radiates a homely vibe, and is equipped with modern amenities along with magnificent wooden flooring and large windows.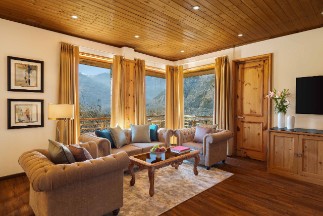 Baragarh Suite
Stylish and comfortable, the Baragarh Suite is a perfect combination of functionality, comfort and warmth. Perfect and spacious for that unforgettable family vacation, the unique large room is tastefully decorated with a pinewood finish and luxurious upholstery that brings in the charm of an European chalet. With a separate sitting area, enjoy magnificent views of the majestic mountains through the large windows.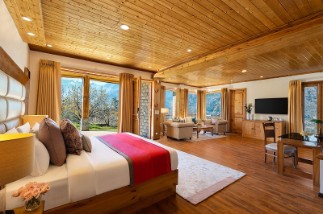 Baragarh Suite with Jacuzzi
An incredible melange of comfort and luxury, the Baragarh Suite with Jacuzzi is every vacationer's delight. Enjoy the Himalayan mornings at your private Sit-out, breathe in the clear mountain air and take in gorgeous views as you experience a quintessential mountain holiday. An inviting Jacuzzi and a room bedecked with classy pinewood, plush decor, and floor-to-ceiling windows ensure that your stay is unforgettable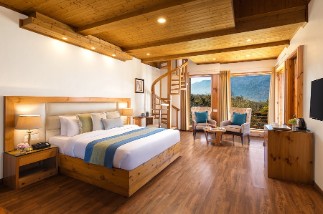 Baragarh Duplex Suite
Ideal for families with small children, the Baragarh Duplex Suite is a true reflection of the warmth of the resort. With beautiful pinewood finishing, modern amenities, and a gorgeous staircase that leads to a mezzanine floor with bedding for children, while the lower level provides ample living space for families to comfortably relax together. Perfect for that family holiday, guests can enjoy the gorgeous Himalayan mountain range from a private Sit-out.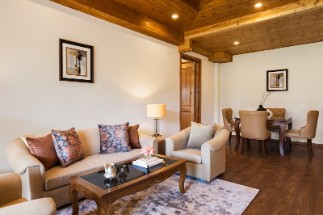 SeleQtions Suite
Nothing beats the SeleQtions Suite when it comes to a blend of comfort and luxury. Spread over two elegant and spacious rooms, the suite also has separate and spacious living rooms and wide balconies, with incredible views of the stunning surroundings. Furnished with beautiful pinewood, each room is well-appointed with plush sofas, generous washrooms, and elegant upholstery that is distinctly luxurious.
*Rates Exclusive of taxes