List
Map
SeleQtions Hotels in Jaipur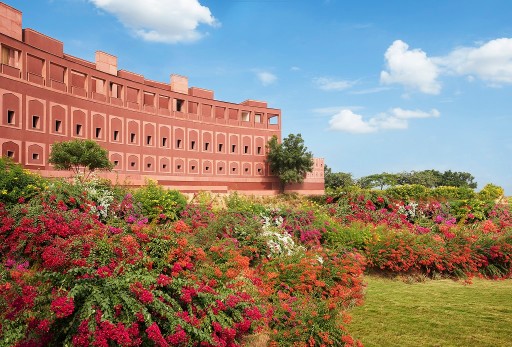 Devi Ratn – IHCL SeleQtions
Ballupura Farms, Village Jamdoli, Agra Road, Jaipur, Rajasthan
Ballupura Farms, Village Jamdoli, Agra Road, Jaipur, Rajasthan
Stretched 20 acres across the foot of the Aravalli mountains, Devi Ratn is a kaleidoscopic rendition of everything Jaipur stands for with its avant-garde, surreal and intricate design.
Lap of the Aravalli mountains
Perfect countryside resort
Great for weekend getaways & destination weddings
Jiva Spa and couple's experiences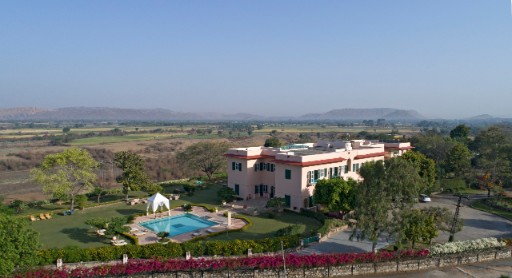 Ramgarh Lodge, Jaipur - IHCL SeleQtions
Jamwa Ramgarh , Jaipur
Jamwa Ramgarh , Jaipur
42.4km from Jaipur International Airport
An erstwhile hunting retreat within easy driving distance of New Delhi and Jaipur, Ramgarh Lodge promises serene vacations amidst natural, rustic splendour. Guests at this intimate heritage getaway can experience the legacy of Jaipur's glamorous royals while indulging in sustainable farm-to-table meals and guided village tours.
Former hunting lodge of Jaipur's Maharaja
Contemporary Design with Old-World Charm
Cycling,Village Safari, bird watching , farm visit , tracking
Rooms are adorned by art deco style
Taj Hotels in Jaipur
amã Stays & Trails in Jaipur
Ginger Hotels in Jaipur
About Jaipur
India's famed pink city, with a unique character that is quintessentially Rajput, is more than a gateway to Rajasthan. Jaipur has a bit of everything, from the wonders of its many historic forts and palaces, to the rich vibrancy of local culture and bustling energy in its vivid bazaars.
If SeleQtions stories were compiled into one book, it would be bestselling page turner. Hand-picked for its uniqueness, our hotels in Jaipur have a compelling character, with a distinctive historical, geographical, cultural and artistic stamp. Our luxury hotel in Jaipur - Devi Ratn - IHCL SeleQtions is a 40 minute drive from Jaipur International Airport & our heritage hotel in Jaipur - Ramgarh Lodge, Jaipur - IHCL SeleQtions is located in the prominent region of Jamwa. The SeleQtions way of life highlights hyper-local travel, focusing on your passions. Plan a business trip, family vacation or honeymoon; our hotels in Jaipur cater to your quirks and interests. Explore the unusual home-style Indian & International food or spend your day delved into local culture, when a SeleQtions story meets your own, great memories are crafted.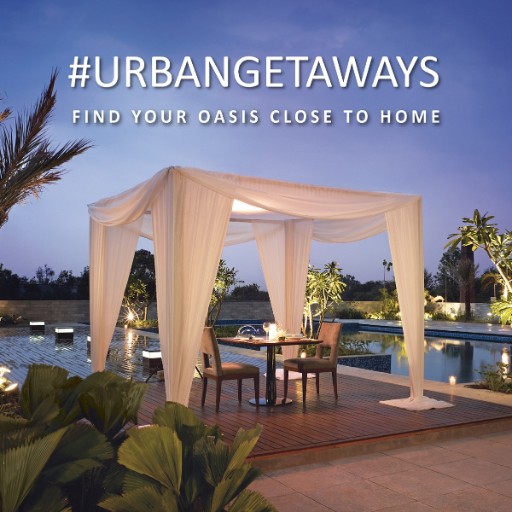 Urban Getaways
Breakfast, One Meal, Upgrade and more for a perfect staycation.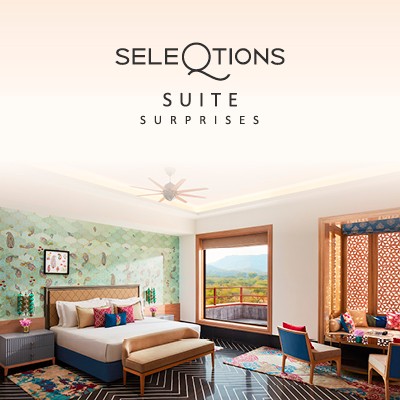 Suite Surprises
Exclusive benefits on Suites ranging from airport transfers, daily breakfast, Wi-Fi, and more.

Moments Of Joy
Valid for bookings made from 4th Dec 2023 to 7th Jan 2024 for stays till 31st Mar 2024.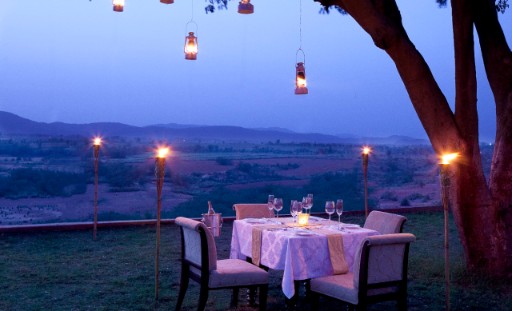 SeleQtions All Inclusive Offer
All Inclusive special for an unforgettable stay.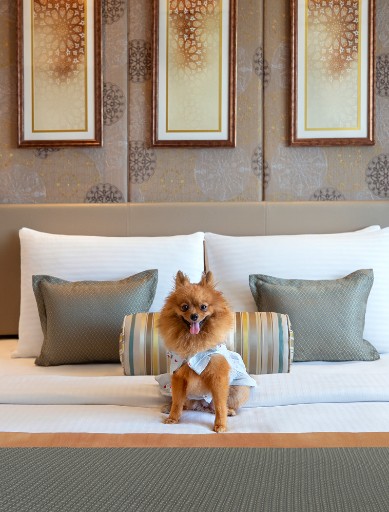 Pawcations
Bring your pet along for a pawfect vacation with in-room amenities for you and your furry baby. (Pet Policy*)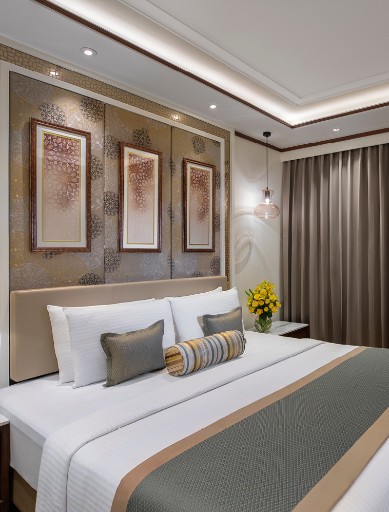 Member Exclusive Offer
Exclusive savings for our members.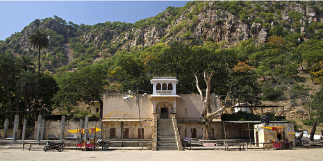 Explore Jamwa Ramgarh
Embraced by the rugged Aravalli Mountain range, the hamlet of Jamwa Ramgarh is an integral part of the history and royal lineage of Jaipur. The prefix refers to the ancient temple of Jamwa Mata, family deity of Rajput warriors who ruled from Ramgarh 1000 years ago before migrating to present-day Amber, then Jaipur. For our guests to experience an authentic slice of the rustic life, Ramgarh Lodge offers customized guided tours to the village. Jamwa Mata temple and Ramgarh Fort – former bastion of the Kacchwaha Rajputs – are first stops on most routes. Tours are arranged to the local school, small artisan workshops for a closer look at indigenous weaving, the fragrant rose farm and weekly cattle fair.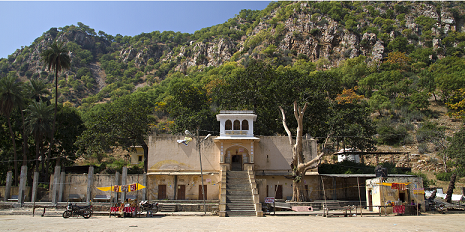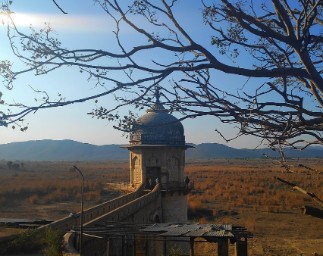 Ramgarh Dam Water walk
The walk is designed to share the Dam's incredible journey of 150 years. Through spellbinding stories, this walk sheds light on its spiritual beginning, enduring structure , political intrigue and the monumental impact it had on Jaipur for over and a half. Built in 1903 on the fabled Banganga river, Ramgarh Dam created one of the biggest man-made lakes in the world. The Lake is spread in 16 sq. kms with the catchment of 831 sq. kms. Though a desert, Rajasthan is a water civilization and water is it cultural repository. Its textiles, art, food, culture, valour, nothing would exist in its absence and every tale becomes magical in its presence. A land with practically no water evolved a beautiful culture around it that sustained life in the most inhospitable terrain for centuries.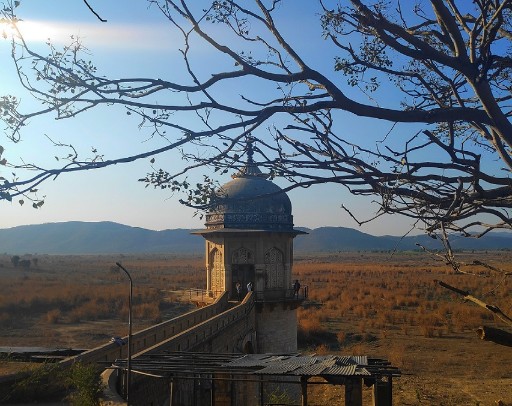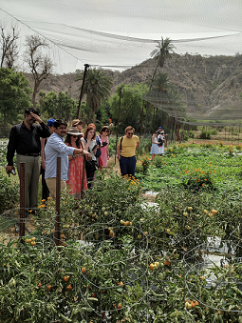 Organic Farm Tours
Ramgarh Lodge has its own organic farms that fuel a hyper-local gourmet philosophy. The languid pace of life in our little hamlet encourages guests to venture out into these lush vegetable gardens and herb patches. Our chefs conduct guided tours to explain the process of organic farming for a better understanding of the sustainable farm-to-table process. Children and adults alike delight in picking the fresh produce, interacting with gardeners, nurturing plants and being a part of the process that feeds them. You can further try your hand at the traditional open-fire oven (chulha) in the kitchen and learn a few rustic Rajasthani culinary secrets.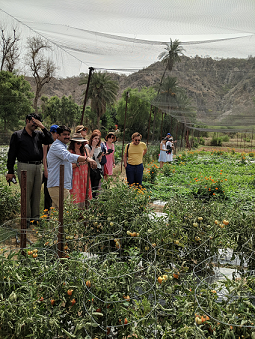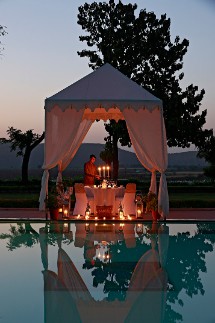 Dine Under The Stars
While the sylvan atmosphere of the lodge is delightful by day, it's positively enchanting at night. A romantic dinner – set at the breezy cabana by the turquoise swimming pool - is the just the event to capture this natural beauty with a slice of man-made culinary wizardry. Our staff sets up the cabana for a four-course personalized dinner. Meat and vegetables from the organic farm sizzling off a live barbecue are paired with the finest spirits. The moonlit ambience is enhanced by the whte, light-as-air flowers of surrounding saras trees.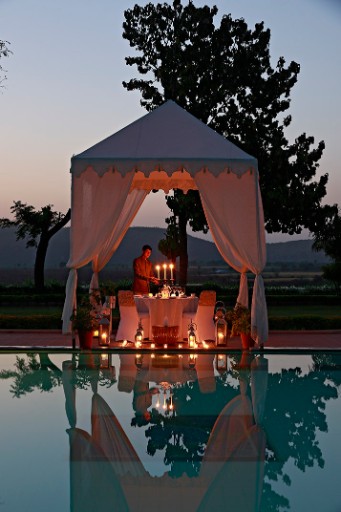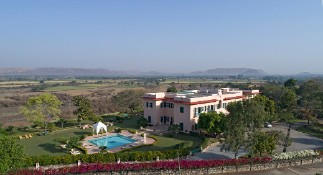 Rustic Charm Meets Royal Reminiscence
Rustic Charm Meets Royal Reminiscence
Experience the inimitable vintage exquisiteness of the Ramgarh Lodge - a tranquil European-style heritage retreat nestled amidst the serene Aravallis, 30 kms from Jaipur. Built in the 1930s, this former hunting lodge of the royal family will take you back in time. It offers an exceptiond of unmatched traditional hospitality with contemporary efficiency and has played host to honoured visitors including Prince Philip, Prince Charles and Jacqueline Kennedy who were penal blersonal guests of the Maharaja.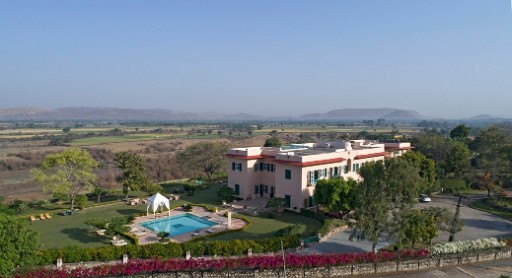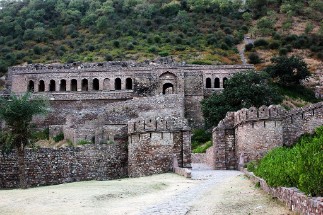 Bhangarh Fort- The Most Haunted Place In India
Bhangarh Fort- The Most Haunted Place In India
Everyone loves a good mystery. And we've got one of India's best, just 45 kilometres from the lodge. Located at the border of Sariska Tiger Reserve in the district of Alwar, Bhangarh is a 17th century fort, notorious for being the most haunted place in India. The lodge arranges a four-hour tour, during the daytime of course. Though the fort is in ruins, the small city it encircles is green and quaint, with temples, palaces and multiple gates. Developed in 1573, this flourishing town was completely abandoned – some say overnight – by the beginning of the 17th century. Amongst the many myths and legends floating around, there is one about the alluring princess of Bhangarh and the wrath of a rejected tantric magician who cursed the kingdom to its downfall. To know more, you'll have to visit this unique destination.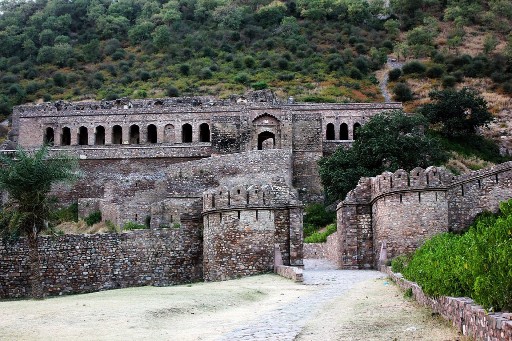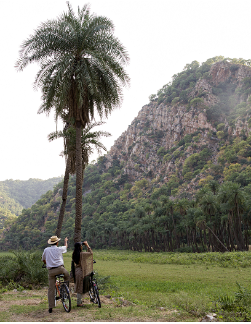 Sariska Tiger Reserve
One of India's foremost tiger reserves, Sariska is must-visit for big cat lovers. The lodge arranges for a safari, which includes other attraction in the area like Bhangarh Fort, Pandupol - famous as the site of the mythological meeting between Bheema and Hanuman in the Mahabharata – Kanwari Fort and a boat ride at Silserh lake.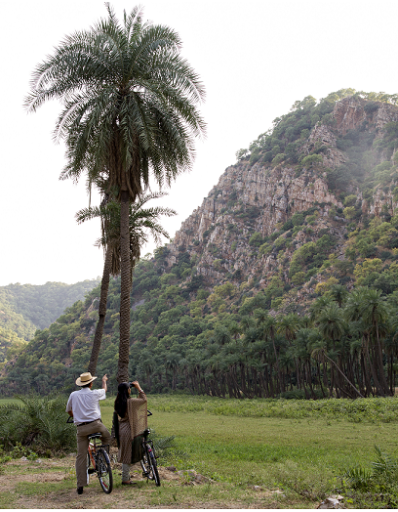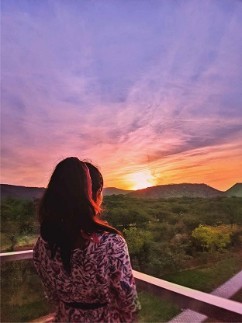 Kaleidoscopic sunsets
Sun worshippers and sunset fans rejoice. Watch the resort's many moods as the sun travels through the sky. Pick your favourite spot indoors or outdoors. With the Aravallis for company.
Kaleidoscopic sunsets
The sun plays a stellar role at Devi Ratn. Sunrises, sunsets are kaleidoscopic and the sweeping resort's expanse gives you many spaces to savour them. This resort, after all is a design tribute to the Jantar Mantar, the famed 18th century astronomical observatory and its sun dials. Rooms with clear views, airy terraces and latticed Jharokhas amplify the experience.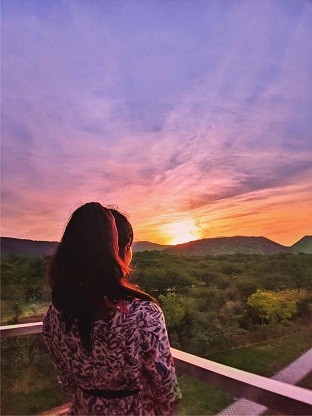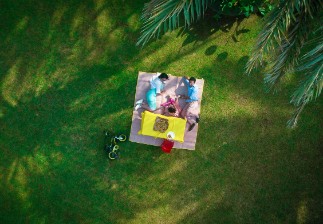 Picnic on the lawns
The picnic's a great way to round up family and friends. Accompanied by blue chip service and a menu of your choice this truly is an "out of basket" experience.
Picnic on the lawns
One of the most languorous ways to spend an afternoon at Devi Ratn is your own private picnic. Munchies, mocktails, propah crockery & cutlery, a blanket,attentive service a nod away and the mesmerizing views of the Aravallis keeps the experience self-contained. This is a genuine "out of the basket" experience.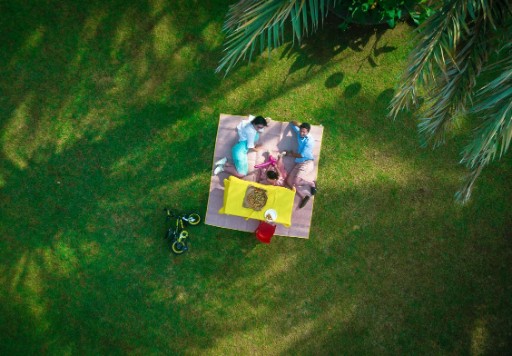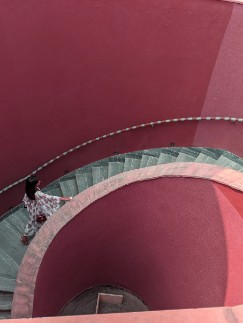 Jaipur Reimagined
Rediscover a Jaipur anew, while Devi Ratn interprets it with geometry and design. Watch the classic get reinvented. Explore its architecture and inspirations.
Jaipur Reimagined
The tour re-imagines Jaipur through its design & geometry. Here Jaipur classics, local crafts & idioms are interpreted in a unique manner. It is enigmatic in the way the hotel uses spaces, experiences and architecture to tell a brand new story of Jaipur. Every corner has a story for you.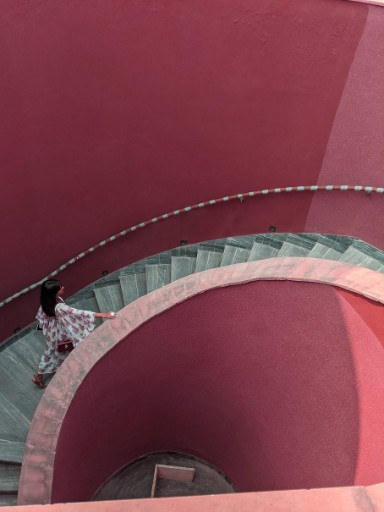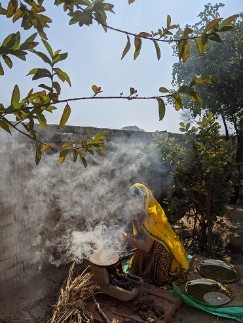 Village Voyage
Seekers of the local would relish the trip to a village, a traditional local household and experiencing a local classic Rajasthani meal.
Village Voyage
This adventure includes a camel-cart ride along rustic roads, A temple visit and sightings of a few animals and birds at the quarry. Get a glimpse of the local life, enjoy a home cooked meal, and discover stories & fables.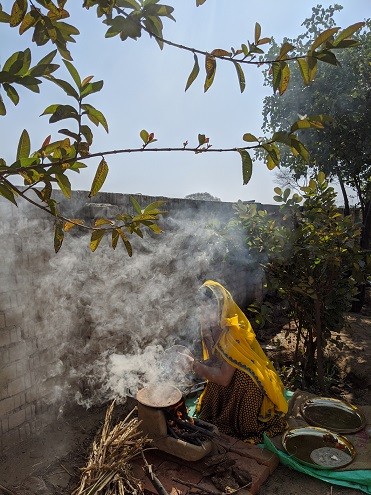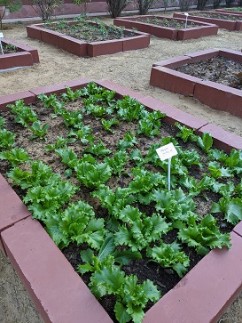 Go herbal
The resort's herb garden grows the freshest organic produce that make their way to your plate. Just go along with our chef and point towards what you like.
Go herbal
Let our chef surprise you with delicious culinary delicacies. Our fragrant herb garden produces the freshest organic micro green herbs year-round. Pick your favourite veggies and herbs, learn about their distinctive features and how they are native to Rajasthan's flavours, while you watch the chef craft a delectable portion of goodness for you to savour.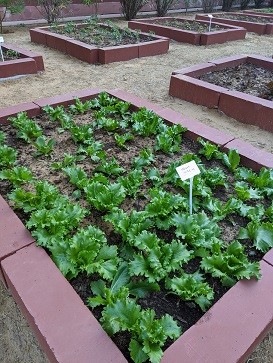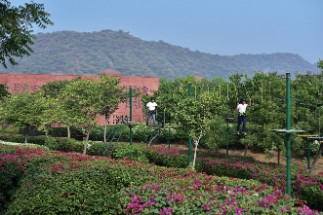 Adventure
Experience an adrenaline rush with a range of adventure activities at Devi Ratn.
Adventure
Test your aiming skills with Paintball, Air Gun-Shooting and Archery; get heady with the Trampoline, and traverse the many slopes and curvy paths around Devi Ratn on a bicycle.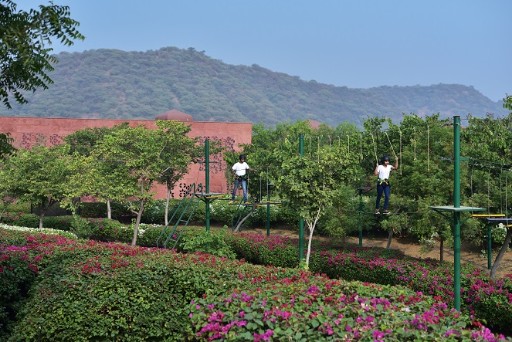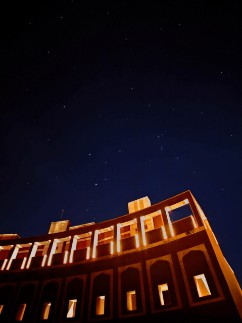 Stargazing
Try your hand at star spotting with a vintage telescope. 
Stargazing
Gaze at a dazzling sky full of stars through a telescope. Devi Ratn is inspired by the Jantar Mantar observatory and narrates an astronomical story. Get closer to the stars and celestial bodies. Sky gaze with a telescope and marvel at their magnificence, a true Carl Sagan moment.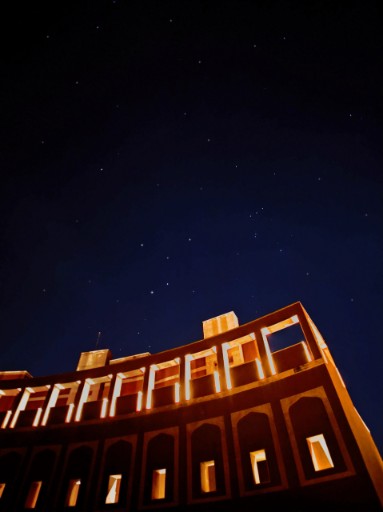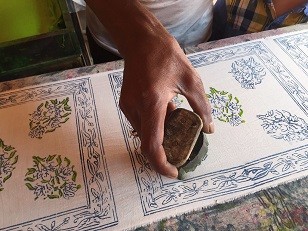 DIY Block Printing
Try your hand at the traditional craft of Block Printing, an art-form that has existed in Rajasthan for at least 300 years.
DIY Block Printing
Visit the DIY station of an ancient and majestic Rajasthani craft - Block Printing. Head to the Street at the resort, where you can learn how to stamp intricately carved floral designs onto fabric with a trained artisan. Take your handiwork home, a beautiful souvenir to remind you of Jaipur's Devi Ratn.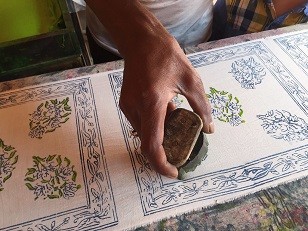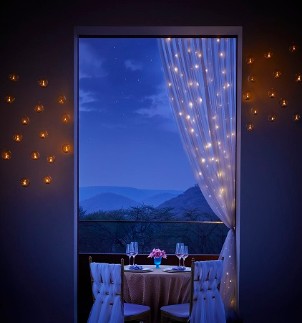 Unique dining Experiences
Indulge in unique fine dining experiences like never before. Up on the roof, surrounded by music or in a quaint village.
Unique dining Experiences
Elevate your dining experience at the Devi Ratn with exotic affairs such as the Machan Dining experience - a candle-lit dinner surrounded by music, lamps and the majestic Aravallis. Dining Under the Stars at the Vyom terrace allows you to stargaze during and between courses.