List
Map
SeleQtions Hotels in Dudhwa National Park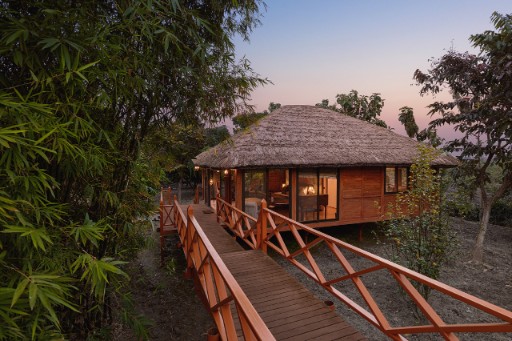 Jaagir Manor, Dudhwa – IHCL SeleQtions
13 Rooms, Suites & Villas.
Luxurious & Spacious Accommodation.
Personalized & Private Game Drives.
About Dudhwa National Park
Jaagir Manor, Dudhwa- IHCL SeleQtions is an oasis of indulgent comforts nestled in the heart of the untouched forests of the Terai Himalayas, in Uttar Pradesh. Landscaped in hundreds of acres of tranquil orchards and miles of rugged forests which are home to several species of mammals and birds, Jaagir Manor, Dudhwa-IHCL SeleQtions is India's best-kept wildlife secret.
Reminiscent of the Victorian Era and soaked in contemporary comforts, the Manor is an elegant base from which to make forays into the four, surrounding wildlife reserves.
Over 500 square miles of untouched and pristine forests make up the Dudhwa Wildlife Corridor. In addition to offering a chance to see the Indian Big Five: Elephants, Tigers, Leopards, Sloth Bears and Rhinos, the region offers four distinct landscapes including wet marshes, grasslands, dense forests and vast alluvial plains. Wildlife expeditions take place in Dudhwa National Park, Kishanpur Wildlife Sanctuary, Katarniaghat Wildlife Sanctuary and Pilibhit Tiger Reserve on our private vehicles, elephant back and boats.