In our continuous endeavour to provide you with the best experience and services, we would like to inform you that Cidade de Goa - IHCL SeleQtions will be undergoing renovation till 20th December 2022. During this period Alfama & some rooms of Bay Wing will be under renovation. Lobby, Café Azul and Taverna Bar will be operational post the first week of December. Rest of the facilities at hotel are fully operational and available for our guests.
Cidade de Goa-IHCL SeleQtions
Luxury Beach Resort in Goa near Dona Paula
A few minutes from Panjim, past verdant paths, and on Vainguinim beach, await intimate alcoves, overhanging balcaos, historic murals, a backyard beach, and the friendliest hosts. Simply, Goa in a resort.
Designed as a Portuguese hamlet, with a Mediterranean influence, by world-renowned architect Charles Correa, Cidade de Goa, our beach resort in Goa, is a blend of luxury, warmth, and the laidback elegance of susegad. It embodies the heart of Goa, both in terms of location and vibe.
One is welcomed by stunning views of the sea, manicured greens, and vibrant medleys of oranges, yellows, and blues. Correa's telling murals, chequered floors, balcaos, and tiled roofs take one through a historical Portuguese-Goan journey. Every corner has a story, every nook - places to sit, and every evening is accentuated by live music.
Rooms or quartos are thoughtfully designed, keeping heritage, space, and grace in mind. Every suite is one with a view, opening out into the blues and sounds of the sea, every window a suitable spot for introspection.
The quaint & secluded Vainguinim beach, makes Cidade de Goa an excellent destination for discerning families. A range of water sports, games, and children's facilities ensures everyone is occupied.
For health pilgrims, Clube Saúde's Tattva Spa and Salon rejuvenates, the gymnasium keeps the adrenaline going, and Pavitra Ayurveda encourages self-discovery through meditation, yoga, and self-healing.
Gourmands are spoilt for choice. Laranja, the multi-cuisine restaurant, welcomes all with wide arches. Alfama, reminiscent of old Lisbon, provides a unique balance of the global and local. Café Azul, a pool-side restaurant, overlooking the sea, is proud of its Indian, Italian, and local cuisines, while the seasonal Barbeque, the open-air restaurant, lets you indulge in intimate conversations just a few metres from the sea.
Professionals, too, may breathe easy as contemporary venues create the desired ambience for both conventions and rendezvous.
Warmth is at the heart of Cidade de Goa and is complemented by service that speaks volumes. Friendly smiles await your arrival, the concierge helps with tours, and in-resort currency exchangers make travel a breeze. After all, we are only as good as our people and ours are the best.
Experience the heart of Goa - just 30 minutes from the airport at our beach resort in Vanguinim beach. It would be a pleasure to have you.
Hotel Highlights
10 minutes from the capital city of Panjim
Designed by world-renowned architect Charles Correa
2 adult swimming pools and 1 kids pool
Located on Vainguinim beach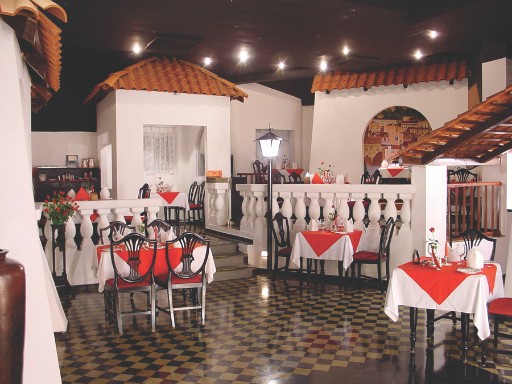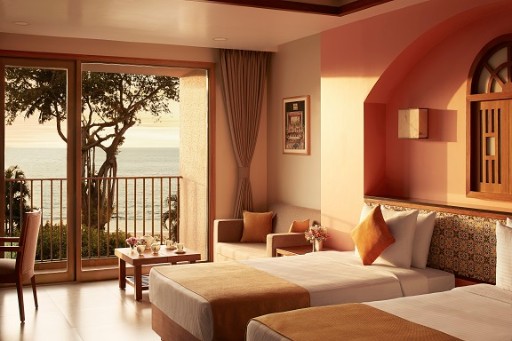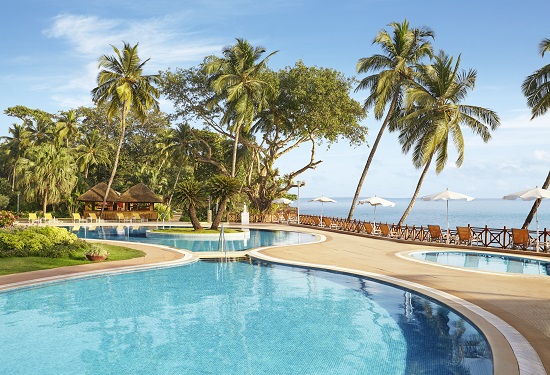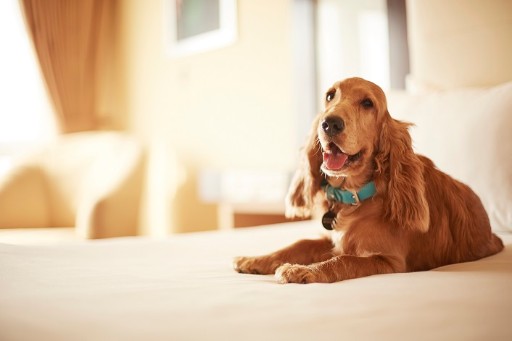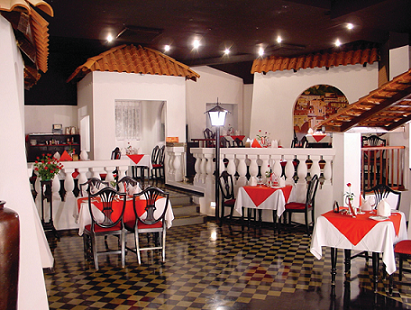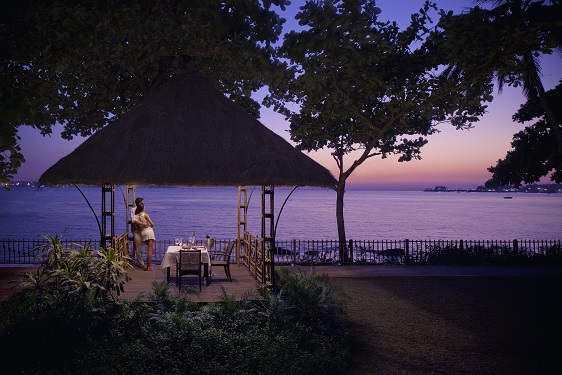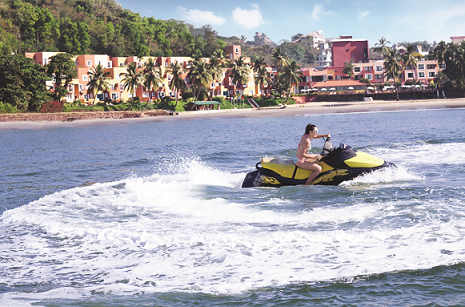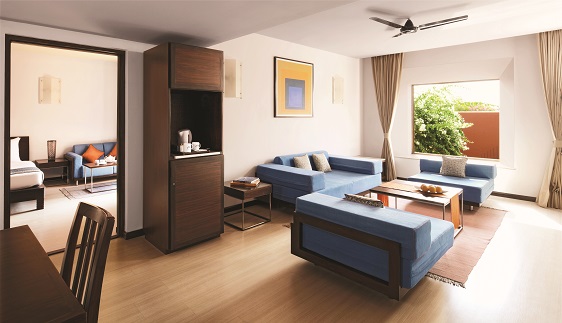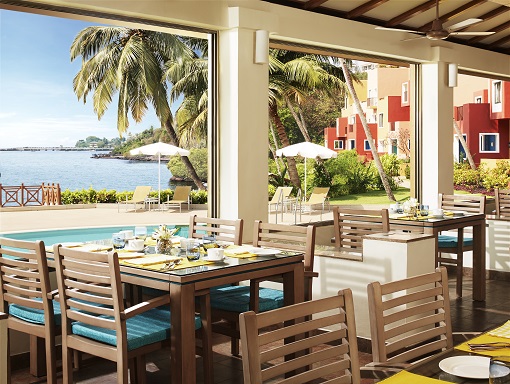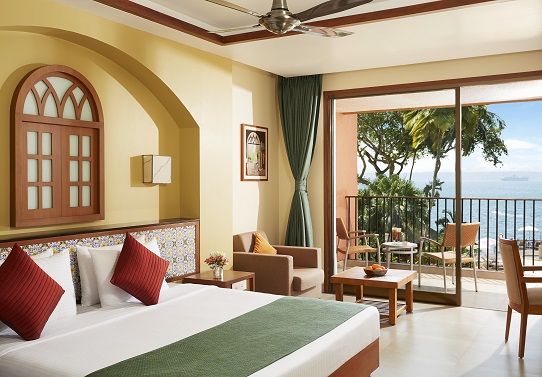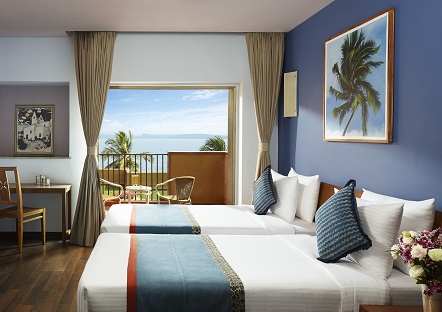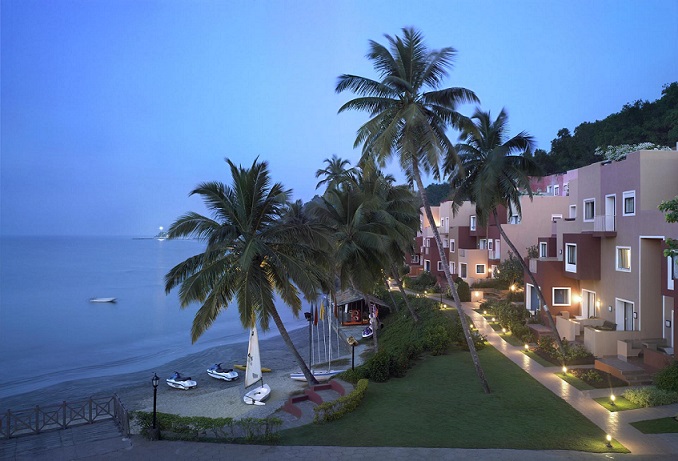 Hotel Policies
Check-in time: 2:00 PM
Check-out time: 12:00 Noon
Early check-in and late check-out on request
We accept American Express, Diners Club, Master Card, Visa
Pets are allowed.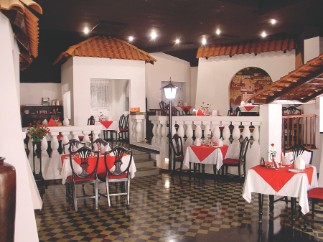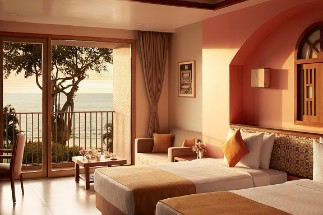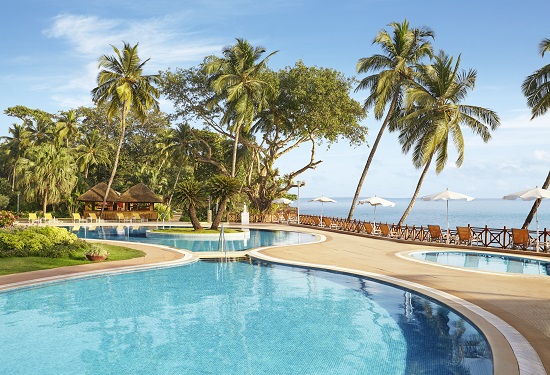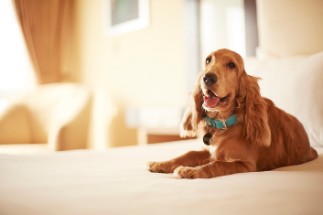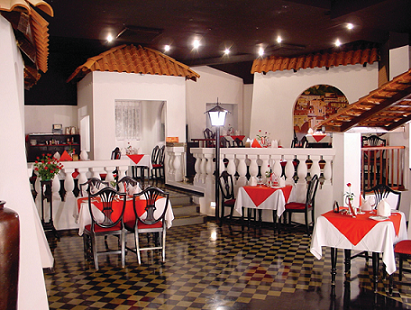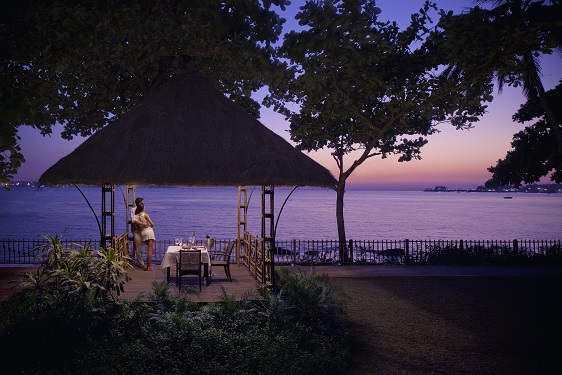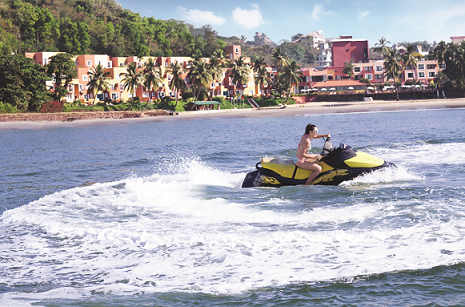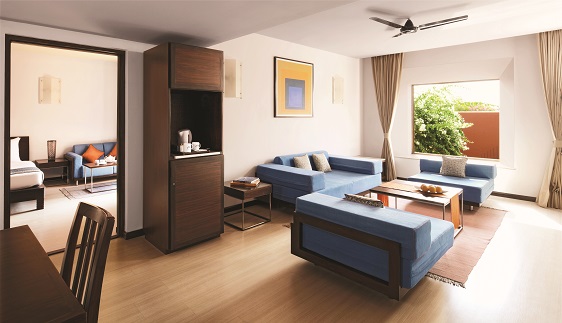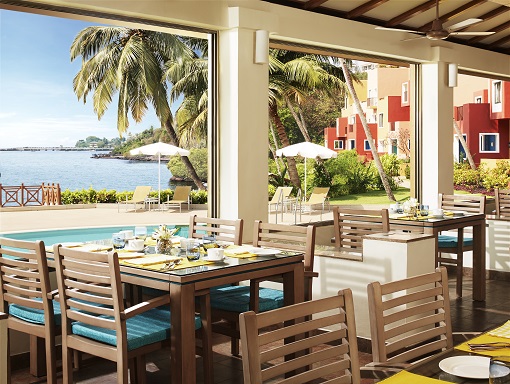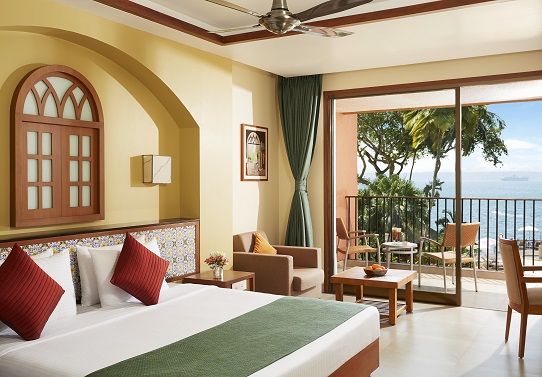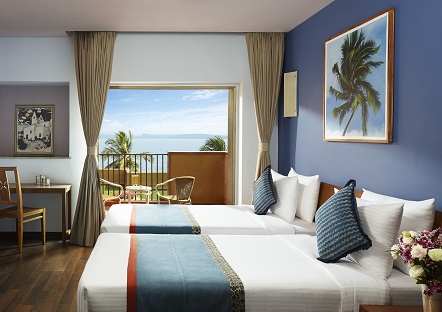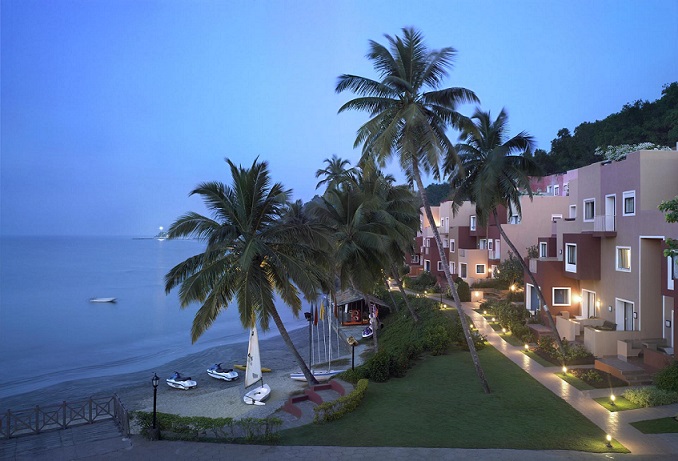 High Speed Internet with Wi-Fi

Rollaway or Extra Beds on request

Internet availability through Wi-Fi and wired dataport access

Complimentary Bath & Shower Gel

Complimentary Disposable Bag

Dental Kit & Shaving Kit (On Request)

Central AC with individual control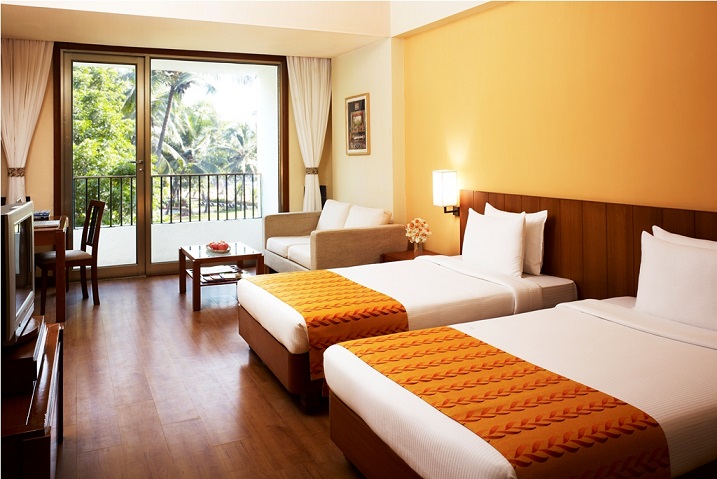 Cidade Standard Room
Perfect for a family of 3*, the rooms mirror Cidade's architectural style. Enviable views, coupled with quietly chic artefacts create luxurious living spaces that are subtly distinct. Each room comes with a king-size bed or twin bed, premium facilities, free internet access.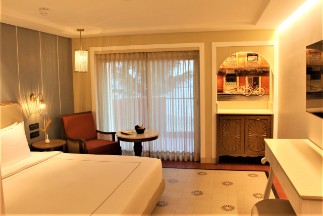 Cidade Superior Room Sea View
Revel in the splendour and heritage of Portuguese-Mediterranean architecture with breathtaking sea-facing rooms and airy balconies that let in bright, natural light. Each room comes with a king-size bed or twin bed, premium washroom facilities, free internet access.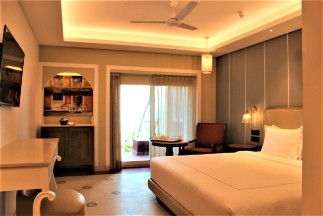 Cidade Deluxe Room with sit-out Sea View
Embrace the nuances of our architecture in heritage-chic rooms, with breezy private sit-outs, some with a swing, that lead directly to the beach. Ideal for curious solo travellers and couples, each room comes with a king-size bed, premium facilities, free internet access.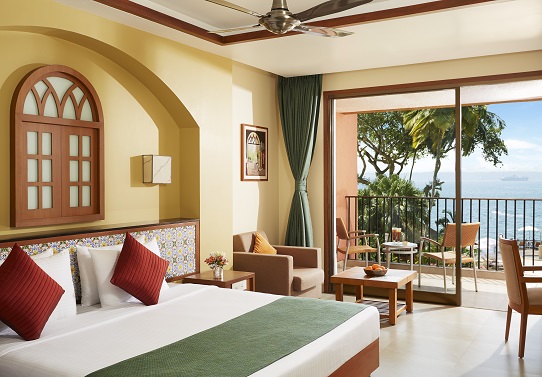 Cidade Classic Room Sea View
Gaze out into the sea as you and your family bask in the spacious comfort of the luxurious sea-view rooms. The largest in the room category, thoughtfully designed with Portuguese influences, each room comes with a king-size bed or twin bed, premium facilities, free internet access.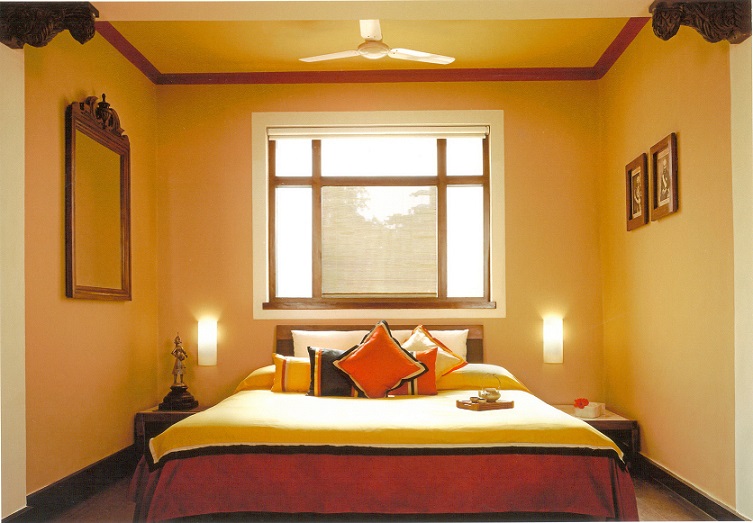 Junior Suite King Bed Sea View
Commanding vistas overlook the azure bay in these opulent suites, ideal for families. Complemented by a private terrace or an exclusive garden area, each suite is individually designed, adorned with exquisite art and lavish décor, and serviced by Cidade de Goa's friendly and heart-warming staff.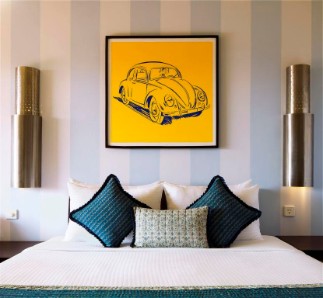 Family Suite King Bed with Sit-Out
Pastel-hued, spacious and private, this suite has large, interconnected rooms, with two washrooms and enough space for children to play. An airy balcony extends from the master bedroom while the sitting room, with its separate dining area and balcony, transforms into a comfortable sleeping space.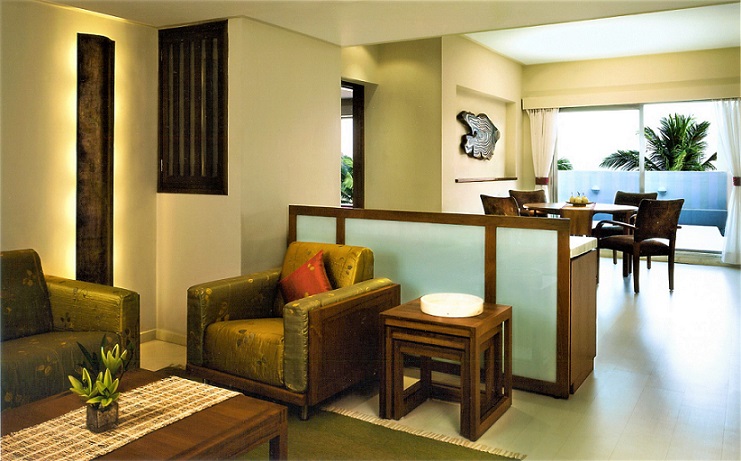 Executive Suite King Bed Sea View
Themed, contemporary designs complement the Portuguese-styled façade with these seafacing suites. Large dining halls and separate bedrooms enhance the feeling of luxury, while an exclusive garden area, a private terrace, or balconies with panoramic views, tempt you into deep thought and relaxation.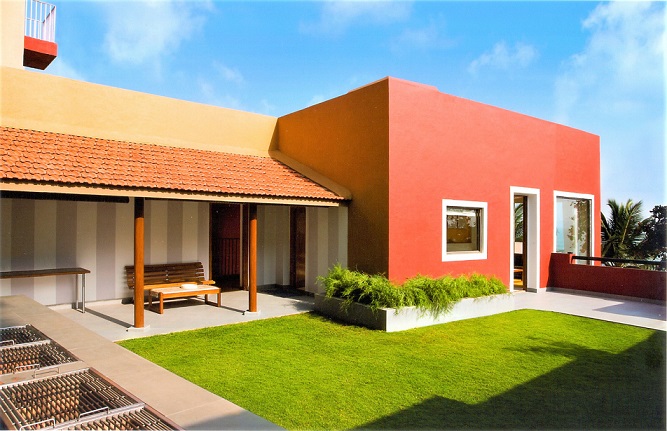 Jardim Suite King Bed Sea View
 A true modern-day hamlet experience. Jardim, meaning 'garden', is true to its name with a large, airy private garden and barbecue area complementing its spacious, opulent interiors. One of two presidential suites, it faces the sea and is fitted with marble table-tops that up the luxury quotient.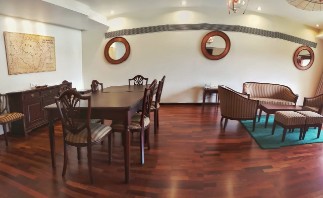 Vasco da Gama Suite King Bed Sea View
The top-draw, presidential suite, Vasco da Gama is the epitome of luxury. The sprawling living room, with themed decor, a fully-equipped kitchen and 2 washrooms, complements the massive bedroom with a cupboard enclave, a generous washroom and a huge seafacing balcony that connects to the living room. 
*Rates Exclusive of taxes