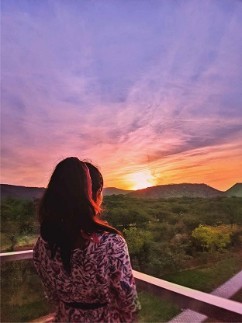 Kaleidoscopic sunsets
Sun worshippers and sunset fans rejoice. Watch the resort's many moods as the sun travels through the sky. Pick your favourite spot indoors or outdoors. With the Aravallis for company.
Kaleidoscopic sunsets
The sun plays a stellar role at Devi Ratn. Sunrises, sunsets are kaleidoscopic and the sweeping resort's expanse gives you many spaces to savour them. This resort, after all is a design tribute to the Jantar Mantar, the famed 18th century astronomical observatory and its sun dials. Rooms with clear views, airy terraces and latticed Jharokhas amplify the experience.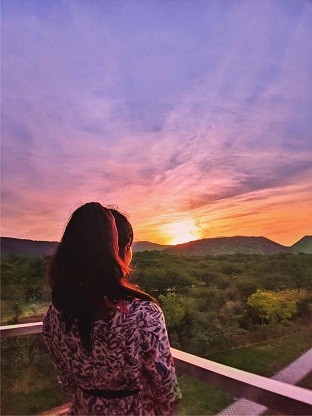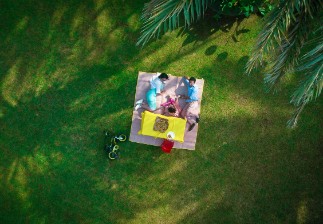 Picnic on the lawns
The picnic's a great way to round up family and friends. Accompanied by blue chip service and a menu of your choice this truly is an "out of basket" experience.
Picnic on the lawns
One of the most languorous ways to spend an afternoon at Devi Ratn is your own private picnic. Munchies, mocktails, propah crockery & cutlery, a blanket,attentive service a nod away and the mesmerizing views of the Aravallis keeps the experience self-contained. This is a genuine "out of the basket" experience.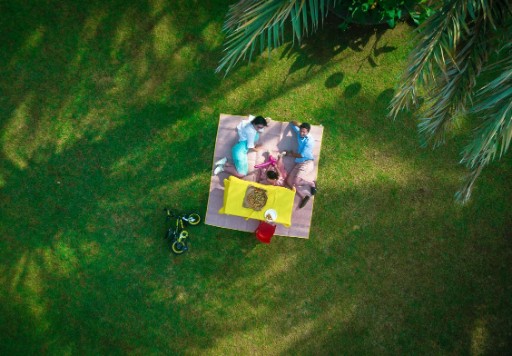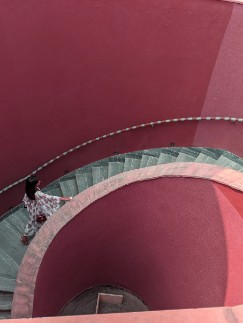 Jaipur Reimagined
Rediscover a Jaipur anew, while Devi Ratn interprets it with geometry and design. Watch the classic get reinvented. Explore its architecture and inspirations.
Jaipur Reimagined
The tour re-imagines Jaipur through its design & geometry. Here Jaipur classics, local crafts & idioms are interpreted in a unique manner. It is enigmatic in the way the hotel uses spaces, experiences and architecture to tell a brand new story of Jaipur. Every corner has a story for you.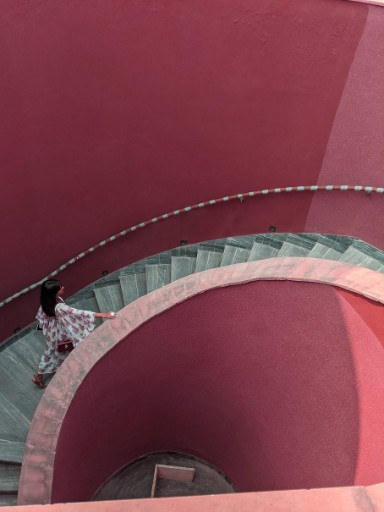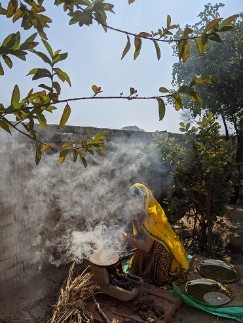 Village Voyage
Seekers of the local would relish the trip to a village, a traditional local household and experiencing a local classic Rajasthani meal.
Village Voyage
This adventure includes a camel-cart ride along rustic roads, A temple visit and sightings of a few animals and birds at the quarry. Get a glimpse of the local life, enjoy a home cooked meal, and discover stories & fables.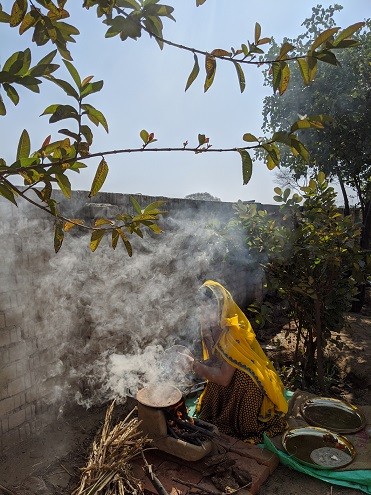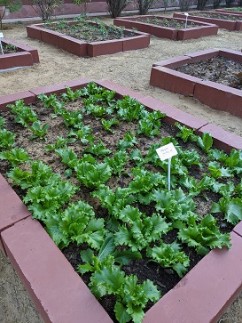 Go herbal
The resort's herb garden grows the freshest organic produce that make their way to your plate. Just go along with our chef and point towards what you like.
Go herbal
Let our chef surprise you with delicious culinary delicacies. Our fragrant herb garden produces the freshest organic micro green herbs year-round. Pick your favourite veggies and herbs, learn about their distinctive features and how they are native to Rajasthan's flavours, while you watch the chef craft a delectable portion of goodness for you to savour.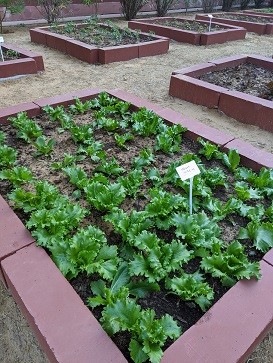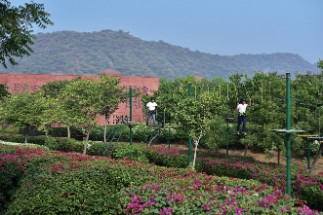 Adventure
Experience an adrenaline rush with a range of adventure activities at Devi Ratn.
Adventure
Test your aiming skills with Paintball, Air Gun-Shooting and Archery; get heady with the Trampoline, and traverse the many slopes and curvy paths around Devi Ratn on a bicycle.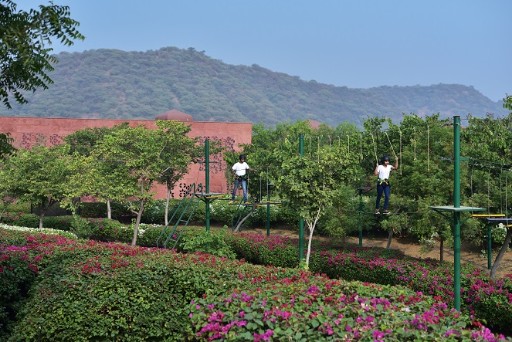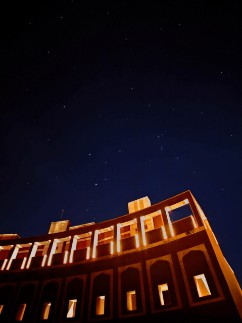 Stargazing
Try your hand at star spotting with a vintage telescope. 
Stargazing
Gaze at a dazzling sky full of stars through a telescope. Devi Ratn is inspired by the Jantar Mantar observatory and narrates an astronomical story. Get closer to the stars and celestial bodies. Sky gaze with a telescope and marvel at their magnificence, a true Carl Sagan moment.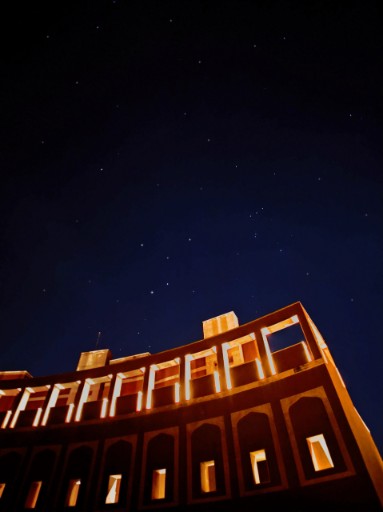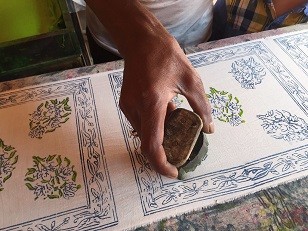 DIY Block Printing
Try your hand at the traditional craft of Block Printing, an art-form that has existed in Rajasthan for at least 300 years.
DIY Block Printing
Visit the DIY station of an ancient and majestic Rajasthani craft - Block Printing. Head to the Street at the resort, where you can learn how to stamp intricately carved floral designs onto fabric with a trained artisan. Take your handiwork home, a beautiful souvenir to remind you of Jaipur's Devi Ratn.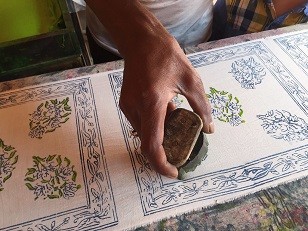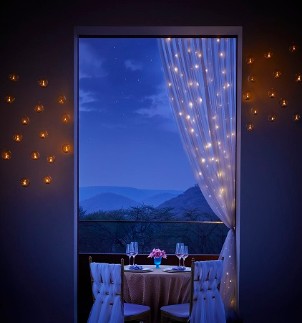 Unique dining Experiences
Indulge in unique fine dining experiences like never before. Up on the roof, surrounded by music or in a quaint village.
Unique dining Experiences
Elevate your dining experience at the Devi Ratn with exotic affairs such as the Machan Dining experience - a candle-lit dinner surrounded by music, lamps and the majestic Aravallis. Dining Under the Stars at the Vyom terrace allows you to stargaze during and between courses.